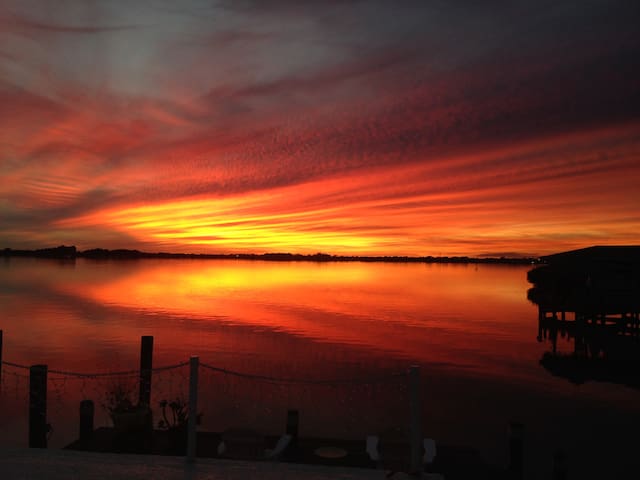 Enjoy beautiful sunsets at this lovely waterfront home located in Merritt Island. Just minutes from Cocoa Beach, Port Canaveral, Kennedy Space Center and charming Cocoa Village. My place is good for couples, solo adventurers, and business travelers.
---
Bed type: one two Real Bed one
Check In: one two 14:00 - 22:00 one two three
Room type: one two Private room one two
---
Wireless Internet one two three
Free parking on premises one two three four five
---
Extra people one two No Charge one two
Weekly Discount: one two 8%
Always communicate through Airbnb one two three four five six seven
To protect your payment, never transfer money or communicate outside of the Airbnb website or app. one two three four five six seven eight nine ten eleven twelve thirteen fourteen fifteen sixteen seventeen
Learn more one two
---
---
---
Fire extinguisher one two three
Lock on bedroom door one two three four five
---
1 night minimum stay one two three four five six seven eight nine ten eleven twelve
---
Linda's place was stunning. The view from the sunroom/pool area was amazing and very private. The house is very clean and has everything you would need for your stay. The breakfast was delicious along with her baking! Linda was so kind and so helpful with suggestions on things to do in the area. The bedroom and bathroom have a door that separates them from the house for more privacy and the space is the perfect size for couples or families. We would highly recommend The Sunset House and plan on staying there for future visits!
---
Linda is a joy. Her home is gorgeous and located in a beautiful area, right on the water. It has a nice screened in patio, a large pool, and a dock to sit on with a cold beverage or cup of coffee to watch the manatees and other wildlife go by. The home is spotless, but still warm and inviting. The towels are soft and luxurious. The bed is so comfortable we didn't want to get up! The bedroom and bathroom are located in their own hall, and the hall has a partition door to close off the rest of the home if you'd like. Her baking is scrumptious, too! I absolutely recommend staying with Linda if you're looking for a quiet, calm place to escape and relax.
---
Linda's home is quaint and adorable, welcoming, and spotlessly clean! It sits right on the water, with the water's edge seriously only about 20 feet outside of your bedroom window. Just enchanting. We witnessed dolphins jumping in the water as well as bioluminescence in the evening water. Unbelievable. This is the stuff that dreams are made of! And if this wasn't enough, Linda is an unbelievable baker and has some of the most delicious delicious baked delights on hand that I've ever eaten (and I'm a seasoned baker also, so I have a taste for good quality treats). Linda was so very sweet and helpful and went above and beyond in every way. I am making notes on how to be an excellent Airbnb host from her example!
---
Linda was so gracious in helping us with our reservation when we had to cancel due to a death. The reservation was last minute and the cancellation was last minute, but she was so prompt in responding both times. I'm sorry we were unable to enjoy her beautiful home. It was going to be our port in the storm. I would highly recommend this home and host to anyone staying in the area
---
Response rate: one two
100%
Response time: one two
within an hour one two
Explore other options in and around Merritt Island one two one two three four five six seven eight nine
More places to stay in Merritt Island one two: one two three four five six seven eight